Grand Slam on a Fantastic Day
Grand Slam on a Fantastic Day
Trip Info
Dolphin (Mahi Mahi)
Tuna (Yellowfin)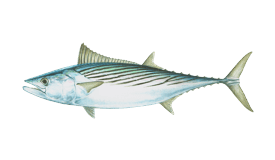 Bonito
Grand Slam on a Fantastic Day
Offshore Fishing Report – Durban – 18th December 2018
Just as the warm water arrived, it vanished again and we had to head far out to find some good water. We found water so clean that we could see our Rapala's running in the water, and the best temperature we got was 22.4 deg.C. Even though not an ideal temperature this water was holding a lot of fish but all the way there and all the way back was dead. In this water we managed to land 3 Dorado and drop 3, they were hitting so soft that in order to get a solid hook up I had to bang the throttles. We also managed to land 4 good sized Yellowfin Tuna and drop one. Along the way early morning we managed 6 Bonnies as appetisers for the day ahead. A Marlin came in and knocked our starboard inside rigger off and then it vanished as quickly as it appeared.
Book your trip with Blue Water Charters - Fat Girl
About The Captain
Mike Laubscher
Durban NL, South Africa • Member since December 2013
I have been fishing since I was 5 years old in Durban and have fished many places around the world and in South Africa, but Durban is my home waters. I fished competitive for many years and I have been running my own charters since 2008 with 3 companies and 3 boats, fish a variety of styles and target a variety of fish species in both Salt and Fresh water, have many published articles in several magazines on fishing. Love nature and outdoors, Am very conservation minded and have a passion for birds. I am crazy about big Tuna, Marlin Fishing and Game Fishing, and also love light tackle spinning, am a total lure junkie. Represented my province in fly fishing for many years and am also pro staff for Rapala/Shimano. I want to write a book on fishing one day. 3 items left on my fishing bucket list, guess then a new bucket list will be in order. As a writer I have my own quote: "I love taking people fishing because it releases their inner child, and in doing so keeps my inner child alive."
Response time: 2 hours
Response rate: 94%
---