Naples Nearshore Fishing Report
Naples Nearshore Fishing Report
Trip Info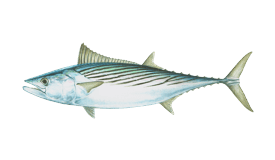 Bonito
Grouper (Goliath)
King Mackerel (Kingfish)
Snapper (Lane)
Started the day off by running offshore to catch bait. Tossed the net a couple times and caught plenty of bait for the day (good sized ones today too). The water was clear and as I pulled in the net I could see a school of Spanish eating the pilchards that were stunned. Free lined a couple of pilchards and caught a few Spanish to save for bait. Cleaned up the boat a bit and ran back to Wiggins to pick up the Miller party of three. Ran out to the same general area where I caught bait and dropped anchor over some artificial structure in about 25' of water. Butterflied one of the Spanish Mackerel and put it down on the hand line for Goliath Grouper. I got the clients fishing (they caught a couple of Spanish Mackerel). Suddenly I realized the boat was moving; at first I thought the anchor came unhooked, but then I remembered the hand line was still down. Ran to the back of the boat and started pulling on the hand line with Scott. We ended up pulling up a 300 plus pound goliath grouper. Took some nice pictures and fished for a little longer, but not much was happening. Fired up the engines and ran out to about 33' of water over some natural bottom. Caught a couple grunts (not much was happening here either and there was no water movement). Got frustrated with the slow fishing, so I ran out farther than I normally do on a 4 hour charter to about 45' of water. We immediately started catching red grouper to 19" and Lane Snapper to 11" as soon as the baits hit the bottom. I Got a couple of free lines going to cover the upper water column and started to live chum the remaining pilchards. One of the free lines took off and we ended up landing a 5 pound Bonita. A few minutes later another free line went off and we ended up getting about a 15 pound King Mackerel. Started to get them fired up with the chum and ended up hooking a few more before it was time to head back. Caught a bunch of fish today and some nice ones! Ended up being out there for nearly 5 hours and burned a little more gas than I would have liked on a 4 hour trip, but we had a great time and it was totally worth it!
Book your trip with Nauti-Gal Fishing Adventures
About The Captain
Ted Gibson
Naples FL, United States • Member since August 2016
Thanks for checking out the Nauti-Gal Fishing Adventures FishingBooker page. I'm a 3rd generation fisherman and have over 19 years experience fishing the waters of Southwest Florida. Currently I hold a 50 Ton Masters License and have captained boats from Naples, Florida to the Gulf of Alaska.
Response time: within an hour
Response rate: 100%
---